UV Pipe Relining in Newcastle - A New Addition to Our Pipe Rehabilitation Services
If you're a homeowner or property manager in Newcastle, you know the importance of keeping your pipes in good condition. But what exactly is UV relining technology and how can it help you? Let's break down the basics of this revolutionary pipe relining method and explore the advantages it offers over traditional methods. 
Our Newcastle UV relining technology provides an innovative pipe relining solution that puts Revolution Pipe Relining at the leading edge of cutting-edge pipe repairs. This remarkable system uses ultraviolet light to cure a specialised resin deep within pipes, making it possible to perform repairs at up to 10 times speedier than with traditional curing methods. That means we can complete more jobs in less time, with no need to put any stress on pipes via heat curing. 
We are proud to be able to offer our customers this groundbreaking technology and provide premier workmanship for those requiring pipe relining solutions.
How Does our Newcastle UV Pipeline Relining Work?
Here at Revolution Pipe Relining, our UV pipe relining service in Newcastle works very similar to traditional pipe relining. 
CCTV Pipe Inspection
To begin, we use CCTV technology to access the affected pipes, presenting us with an exact understanding of the cause, size, and location of the damage that needs addressing. With this information at hand, we have a much clearer idea of how long the job will take and which techniques are most suitable for carrying out the task successfully with as little disruption to your home or business as possible.
Hydrojetting
After a thorough pipe inspection, we next move on to removing all residual dirt and debris with our water jetting and robotic cutting technology. These advanced techniques are essential for creating a super-clean relining area, which will ensure that the entire job is done correctly. Ensuring that our UV pipe relining process is effective requires us to use these methods before we even begin repairing damaged pipes. Working with a clean space increases our chances at success so that even the most challenging jobs can receive the perfect results.
The UV Relining Process
Now that the entire pipe has been prepped, it's time to reline it with our UV technology! We start by 'wetting-out' or infusing the liner with a special UV resin. Then, the flexible liner is inserted into the pipe in the usual manner and using our specialized UV relining system, we activate this resin-infused liner with UV light. Our UV materials cure much faster than traditional methods and creates a stronger bond due to the deeper penetration of materials. After this step is complete, each joint is inspected one last time to ensure everything is perfect and done according to specifications.
The Main Advantages of our UV Pipe Relining Process in Newcastle
Are you looking for a better way to protect your pipes from corrosion, wear and tear, and other common plumbing issues? If so, then our UV pipe relining here at Revolution Pipe Relining is the answer. Our UV pipeline relining system offers numerous advantages over traditional methods of resolving problem pipes. 
Cost-Effective Solution 
One of the biggest advantages of obtaining our UV pipe relining in Newcastle is that it is much more cost-effective than traditional methods. In fact, it can be up to 75% less expensive than replacing an entire section of piping. That means you can keep your costs down while still getting the job done right. 
Resistant to Most Harsh Chemicals and High Temperatures 
Another benefit of choosing our UV pipe relining process here at Revolution Pipe Relining is that it can resist even the harshest chemicals and high temperatures. This means that you don't have to worry about your pipes corroding or being damaged by exposure to harsh chemicals or extreme temperatures over time. 
Minimal Downtime 
A third major advantage of our UV pipe relining process in Newcastle is that there is minimal downtime associated with it. Once the lining has been installed, it can be ready to use again in as little as 1-3 hours. This means that you don't have to worry about taking too much time away from your regular operations while getting your pipes fixed.  
Tough, Strong and Durable Lining 
Finally, our UV pipe relining process at Revolution Pipe Relining uses a strong and durable lining which dramatically increases the lifespan of your pipes. This means that once you get them lined, they will last longer and require fewer repairs or replacements through the years. 
Revolution Pipe Relining is the premier pipe relining company in Newcastle and our professionals have years of experience in handling UV CIPP RELINING services. We provide a range of solutions which are tailored to suit your individual needs, from repairing cracked pipes to restoring damaged sewer lines. Our team of UV pipeline relining technicians can answer any questions you may have about this particular service, so if you would like to find out more do not hesitate to reach out. We pride ourselves on being reliable and ensuring that the job is done efficiently, with quality workmanship and affordable rates. Rest assured knowing that you are in good hands with Revolution Pipe Relining. To request an estimate or for additional enquiries, call our direct line on 1300 844 353 today.
UV PIPE RELINING IN ACTION
How Does UV Pipe Relining Work?
It's quite simple really. After the liner has been installed into your pipe line the uv light is inserted right to the end of the pipe work then pulled back through the pipework by a computer controller until the entire line has cured.
That's it done… in minutes not hours.
UV PIPE RELINING Sydney REGIONS We Service Include: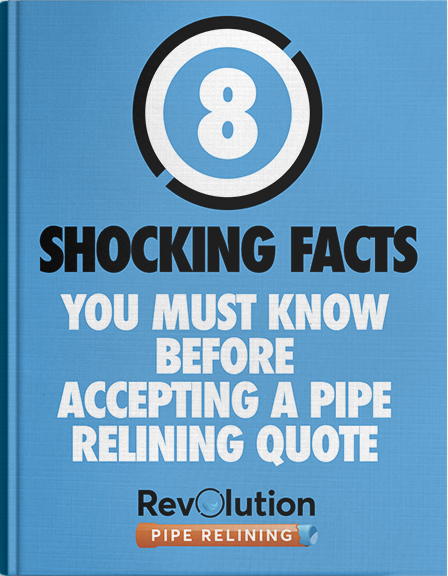 INSIDER FACTS YOU MUST KNOW BEFORE SELECTING A RELINING COMPANY.
This free report will give you 8 powerful points of information to help you select the right company to do your relining and how to ask the right questions about their service and policies.