Premier UV Relining Technology in Lower North Shore
Here at Revolution Pipe Relining, our breakthrough UV Cured-in-Place-Pipe relining is an advanced technique that utilises fiberglass-reinforced, UV light-cured CIPP liners to create a long-lasting, sturdy pipe-within-a-pipe. 
This pipe repair process offers a much stronger and longer lasting pipe than the traditional steam or water curing with felt, resin-impregnated liners. What makes this method different is the fact that instead of reinforcing the liner externally, our pipe relining contractors reinforce pipes internally as the liner is pulled within. 
Once in place, the technology embarks upon a chemical reaction which transforms the CIPP liner into a brand-new pipe that is strong and environmentally sustainable. While more expensive than traditional pipe relining methods in Lower North Shore, our UV drain relining has become one of most recommended forms of pipe repair due to its efficiency and ease of installation over time.
Why Choose Lower North Shore UV Pipe Relining Process?
If you're looking for a pipe relining solution that is both reliable and efficient, then Lower North Shore's UV Pipe Relining process may be the perfect option. This type of pipe relining offers several advantages over other methods, including a quicker installation time, less disruption, and a more sustainable option. Here are reasons why our UV pipeline relining solutions at Revolution Pipe relining is your best bet to restore the functionality of your drains and sewer lines. 
A Safer Way of Rehabilitating Damaged Pipes
One of the greatest advantages of using Lower North Shore's UV Pipe Relining process is that it provides a safer way of working for our operatives. Unlike traditional methods, our operatives are not disposing of contaminated water or working with hot water on site. This means that there is less risk to the environment and less risk to our operatives' health and safety. 
Faster Installation Time 
Lower North Shore's UV Pipe Relining process also offers an incredibly quick installation time from start to finish. This can help minimize disruption as well as save time and money in the long run. The process also requires minimal equipment on-site meaning that it can be easily used in both rural and city centre environments with high levels of traffic. 
More Sustainable Option 
When opting for Lower North Shore's UV Pipe Relining process, you can also rest assured knowing that this method has a smaller carbon footprint than traditional methods. It produces fewer emissions during installation which makes it much more environmentally friendly than traditional methods such as CIPP lining or digging up old pipes and replacing them entirely.  
Durable and Long-Lasting     
Additionally, Lower North Shore's UV Pipe Relining process is ten times stronger than CIPP lining and has an impressive design life of 50 years. This means that it will provide reliable protection against corrosion for many years to come without requiring costly repairs or replacements down the line. 
Reduced Liner Thickness
 The extra structural strength of the UV liner means we can reduce the thickness of the liner and minimise pipe diameter reduction. This results in less disruption and can also provide a smoother finish for your pipe. Additionally, it helps preserve existing piping systems, as we don't need to remove or replace any parts. 
Long-Lasting Results
The UV lining process uses state-of-the-art materials that are durable and long-lasting, ensuring that your pipes will remain in good condition for years to come. In fact, this type of lining typically lasts up to ten times longer than other methods available on the market today! 
Environmental Benefits
Because this process uses fewer resources than traditional methods, it has a significantly smaller environmental footprint. It eliminates the need for digging up old pipes entirely which reduces noise pollution and carbon emissions from heavy machinery. Plus, there's no need for landfill due to all materials being recycled afterward.
When Should UV Pipe Relining Be Considered by Lower North Shore Property Owners?
Damaged pipes are one of the most common plumbing issues homeowners in Lower North Shore face. While there are a variety of solutions, not all of them offer a permanent and cost-effective fix. Here at Revolution Pipe Relining, our  UV pipe relining uses ultraviolet light to create a new pipe within an existing pipe, making it an ideal option for those looking for a fast and long-lasting repair job. 
But when should you consider UV pipe relining? Here are the most common scenarios where this solution might be the best bet.
For Pipes Underneath Structures
If you have damaged pipes underneath built structures like driveways or roads, digging them up can be incredibly costly and time-consuming. In these cases, our UV pipe relining provides the most effective solution since it doesn't require any excavation work. The process can also be completed relatively quickly, so you won't have to worry about significant disruption to your home or business. 
For Poor Soil Conditions
If you live in an area with poor soil conditions, such as clay or sand, then digging trenches can be difficult and dangerous. The risk of collapse is much higher in these situations and could lead to further damage if not done properly. With UV drain pipe relining there is no need for excavation. Instead, we at Revolution Pipe Relining use specialised equipment to line and coat the inside of the existing pipe without disrupting the surrounding area.  
For Sensitive Areas
Similarly, if your Lower North Shore home or business contains sensitive features like gardens or trees that would be negatively impacted by traditional excavation methods, then our UV pipe relining at Revolution Pipe Relining may be your best option. This process requires minimal interference with the environment around it and leaves little disruption in its wake once complete.
To learn more about our comprehensive UV pipe relining services in Lower North Shore, call our pipe relining contractors here at Revolution Pipe Relining. As one of the pioneers of pipe relining in Lower North Shore, you can feel confident knowing that we have your best interests in mind. By delivering cutting-edge UV pipe relining solutions, we will restore your property in good working condition in record time. To learn more or if you request a no-obligation estimate, call our direct line on 1300 844 353 today.
UV PIPE RELINING IN ACTION
How Does UV Pipe Relining Work?
It's quite simple really. After the liner has been installed into your pipe line the uv light is inserted right to the end of the pipe work then pulled back through the pipework by a computer controller until the entire line has cured.
That's it done… in minutes not hours.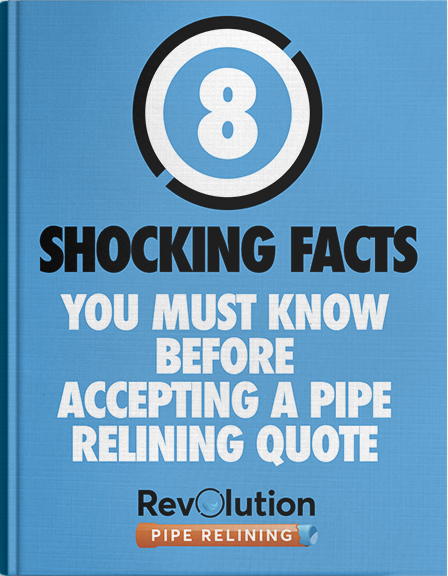 INSIDER FACTS YOU MUST KNOW BEFORE SELECTING A RELINING COMPANY.
This free report will give you 8 powerful points of information to help you select the right company to do your relining and how to ask the right questions about their service and policies.