Most Common Question asked:
How Much Does Pipe Relining Cost?
One of the first things customers want to know is "How much does pipe relining cost?". As a general rule of thumb it will cost you $400 – $1000 per meter. However, on this page we will explain everything you need to know about what affects the price and provide you with a 'Price Estimate Calculator' so you can calculate approximately what your stormwater or sewer pipe relining cost would be. 
The reality is, without visiting your property and inspecting your drain with a CCTV drain inspection camera, no company will give you a 100% confirmed drain relining cost, they will only be able to give you an estimate.  
What affects Pipe Relining Sydney Costs?
1.

Size of Pipe to be Relined

We have the capability to reline small to very large pipes, as you can imagine this heavily affects the trenchless pipe repair cost. The pipe relining sizes we are able to reline is 32mm, 40mm, 50mm, 65mm, 90mm, 100mm, 150mm, 175mm, 225mm, 300mm, 375mm, 450mm, 525mm, 600mm, 675mm, 750mm, 825mm, 900mm, 1050mm, 1200mm and 1350mm.
2.

Length of Pipe

A convenient part of our trade is we can calculate the pipe relining cost per meter. Once we know the size of pipe and the amount of meters to be relined we will be able to give you a meterage price. Pipe relining pricing is no different to anything else, 'the more you buy the cheaper it gets'. Obviously if we are relining 5 meters vs 50 meters the per meter price will be different.
There are 3 main methods for stormwater and sewer relining. Inversion, patch and drag in. Here are the methods in detail and what can affect the sewer relining cost:
Inversion – This is by far the best option if you never want to have a blocked drain again. This technique is generally used when more than 3 continuous meters require drain relining. The liner and resin is inserted into the drain by means of an Inversion Drum, this is a very high quality and expensive piece of equipment that guarantees the best possible end result. The resin is on the outside so it bonds to your existing pipe sealing all the cracks and joints ensuring tree roots have no chance of re-entering the pipe.
Patch Relining – Sectional patch pipe relining is best used when there are only 1 or a few spots that need repairing and the rest of the pipeline is in good working order or the property owner would only like to repair the worst affected areas. The pipe relining cost is based on a per patch basis, not per meter. The resin is also on the outside which bonds to the existing pipe.
Drag in – This is an option if the job is not possible with an inversion drum (very uncommon) or if the reline needs to start further down the line where there is no access. However, it does come with risks and generally lower life expectancies. The main issue is that the resin is on the inside of the liner, meaning that it will not bond properly to the existing pipe and seal all of the old cracks and joints that tree roots gain access through. It has a layer of plastic up against the old pipe which gives tree roots an opportunity to work their way in between the two pipes and cause problems down the track if the incorrect liner or installation technique is used (very common). The other disadvantage is that you need 2 access points which may result in additional excavation which will add to the sewer lining cost.
4.
Junctions (branch lines)
The number of junctions (branch lines) that have been relined over will increase the price, which is one of the main reasons it's hard to quote 'per meter' without inspecting the pipeline with a drain camera. This is because each junction will need to be cut out with either a Picote Cutter or Robotic Cutter and if that junction was tree root affected then by law a junction patch must be installed, otherwise the tree roots will gain access to the drain again. Many companies will skip this step so their pipe relining Sydney cost can appear more competitive, so if you notice in quotes that other companies have included junction patches and another has not you will need to ask a few questions. So you can see the legal requirements yourself, Click here to download the Australian Code of Practice.

5.
Materials Used
Like all industries, there are high and low-quality products on the market, so this obviously affects the trenchless sewer repair cost. Because we have been pipe relining for many years, we have been lucky enough to test 100's or products from all over the world. From this extensive test and measure process, we have found the most superior products available and only use them on our jobs. Our materials are purchased from RSM Lining Supplies, which is one of the most recognised and reputable suppliers in the world. They are a company from The UK but also based in Australia, USA and Canada. All of their products are made in Germany, France, the UK or the USA and are 100% Australian WaterMark approved. Click here to download our Australian WaterMark approved product sheet.
6.

Risk

Pipe relining is a job that can come with very high risk, not life-threatening risks, just the kind that if an error is made it could cost the company a week fixing it. What makes it risky is as soon as you mix the two-part resin together it will start to set, because of this we only get one shot at installing the liner properly as it really is a race against the clock. There are no second chances in pipe relining.

Many companies steer clear of risky relines, we actually thrive on them! However, if there is a lot of risks involved a risk factor must be applied to the quote which will increase the trenchless sewer line repair cost. This is applied by companies just in case the job has delays and takes longer than expected.
Pipe Relining Cost Estimator
If you would like to get a quick price estimate to see if pipe relining in your budget, fill our the appropriate information in our price estimator below.Always keep in mind that the upfront costs we probably are higer than clearing a blocked drain,but this is a long term, permanent solution.
7.
Location
Location is another factor that will affect the price. Pipe relining equipment is generally very big and heavy. So if getting the equipment to that location is difficult it will take additional time and will likely require more staff to help carry it there. For example, if we are working in the basement of a shopping centre/large building and the only way to get down there is to carry it all down by hand, this will be a higher pipe relining cost Sydney then if the reline is taking place in the front yard of a normal residential block of land. 
8.
Company
This is generally what will create the biggest differentiation in the price. The reason being is that some companies are expensive, cheap or quoting to do different work. So it's very important to properly compare quotes and ask as many questions as possible. Here are a few things to help. 
Expensive company: There are many criminal companies that take advantage of people and will try and charge customers up to 10x the price it actually should cost. They will claim things against the other quoting companies like 'They are not experienced, they have a bad name in the industry, their products are not WaterMark approved, etc'. It's best to do your own research instead of believing every word companies like this tell you. If you'd like to find out more information on these companies and how to pick them, click here.

Cheap Company: Like anything, if the price seems too good to be true, then it probably is. It's important to find out why this company is so much cheaper than the other companies. Are they relining the same amount of meters? Are they installing junction patches? Do they have the same amount of patches? Or on the other side of the spectrum, are they a fair price and the other quoting companies are extremely expensive? Ask questions and do your own research.
9.

 Access
Even though we are very proud of our 'No Dig' technology, the reality is that sometimes we have no other option except to dig a small hole to create an access point to reline from. If this needs to be done there will be a small fee added for the labour required to dig the hole and install then install the appropriate PVC pipe and fittings we can reline through.  As this will take additional time and more materials need to be used this will increase the drain relining cost.
10.

Condition Of Existing Pipe:
The condition of the existing pipe plays a role in the price of the job. If it is completely full of tree roots or silt and will require many hours of clearing with a high-pressure water jetter, then this may affect the price. It is very important that the drain is completely clean before relining. 
If the drain is very broken or dislodged, there may be some additional work required to prepare the pipe before relining. It is important to take these steps in order to get the best possible, long-lasting end result.
In some cases the drain can not be relined, this is generally when the pipe has completely collapsed. If this is the case there is no option except to dig up that section of pipework. If your plumber shows you a video of your pipe completely broken looking like it may collapse at any second, you should take this seriously.
11.
Guarantee
How long does the company guarantee its installation for? This all depends on what products they install and if they back their installations. The common amount is 25 – 35 years, some companies are offering 50 years, but then there is Revolution Pipe Relining that offers a LIFETIME Guarantee, we are the only company in Australia that offer this. The reason we can offer such a long guarantee is that we know our installs are perfect, as we do the installations ourselves and only use the highest quality materials available. Some companies need to offer a lower guarantee as they have younger inexperience installers, inferior materials or they completely outsource the work so its too risky to offer long guarantees.
Pipe Relining Cost Estimator
If you would like to get a quick price estimate to see if pipe relining in your budget, fill our the appropriate information in our price estimator below.Always keep in mind that the upfront costs we probably are higer than clearing a blocked drain,but this is a long term, permanent solution.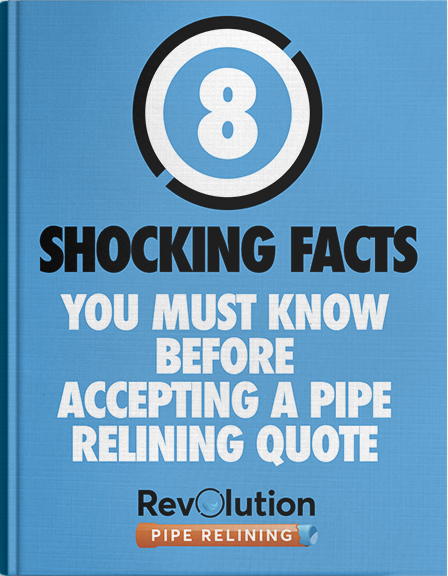 INSIDER FACTS YOU MUST KNOW BEFORE SELECTING A RELINING COMPANY.
This free report will give you 8 powerful points of information to help you select the right company to do your relinging and how to ask the right questions about their service and policies.
The section of pipe that is being relined determines the trenchless sewer replacement cost. For example, relining a boundary trap is more difficult and requires different techniques to relining a straight piece of pipe. Installing junction patches is more difficult and takes more time than installing a straight patch.
The reality is, without visiting your property and inspecting your drain with a CCTV drain inspection camera, no company will give you a 100% confirmed drain relining cost, they will only be able to give you an estimate.  
Summary of Stormwater & Sewer Pipe Relining Cost
As you can now see there are SO MANY variables to what can affect the price of the job and it's not always a straightforward answer like 'It will cost this much per meter'. Pipe relining is a very complex process so without seeing the job or at least a recorded video of the line we cannot give you an exact price over the phone. It's highly recommended that you book in a no-obligation free inspection and permanent solution plan with our team. We will visit your property, film your drain, offer you the best solutions and give you the pipe relining cost for free. If you do not want to proceed with the work that is completely fine. Book a free inspection here.